Executive Nano Drug Delivery USA
Title: Are we the medical researchers enslaved by an antique established status quo and a rigid system that can compromise the outcome of our research conclusions or even the efficiency of final treatments/drugs?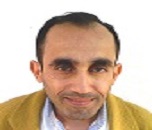 Biography:
Behzad Nili has completed his PharmD/PhD at the age of 27 years from Turin University, School of Pharmcey, Italy and thought at SUMS Shiraz University School of Medical Sciences, in both Departments of Pharmaceutics and Medicinal Chemistry, for several years. He has been working for Nano Drug Delivery, since 2004.
Abstract:
TBA